The cuisine in Southeast Asia is incredibly varied and an integral part of the travel experience there. Vietnamese cuisine in particular impresses with the many fresh ingredients and the wide variety of flavors. Each region or city is proud of its own specialty.
We asked our guides about their favorite food and asked them to show us how to prepare it. Our tour guide Dzung from Saigon presents the preparation of her favorite food – Vietnamese summer rolls. Enjoy cooking and enjoy your meal!
It is currently a difficult time for our partners in Southeast Asia because the international travel restrictions have broken down all income from the travel industry.
Our guides have sent us some videos that we will gradually publish on this travel blog. You are also welcome to support our guides with a donation. Every amount is passed on by us 100%. Just contact us!
Ingredients for Vietnamese Summer Rolls
For the Summer Rolls: 
Rice paper
Fine rice noodles
Braised pork belly
Steamed shrimps
Bean sprouts
Fresh herbs (coriander, Thai basil, mint)
Lettuce leaves
Chinese chives (garlic chives)
For the Dip:
Soy sauce with fried shallots
Aternatively: fish sauce
 
Preparation of Vietnamese Summer Rolls
Here are the most important steps from the video by Dzung.
To make summer rolls, you need rice paper, fine rice noodles, a little bit of steamed pork belly and steamed shrimps.
We also take vegetables: bean sprouts, some fresh herbs, lettuce and Chinese chives. This looks like spring onions, but is much longer. So we have to cut it in half. It tastes a bit sour, bitter and spicy.
And now we have to wet the rice paper a little bit. It's still pretty hard right now, so we have to soak it. But not too wet, otherwise it will tear.
The ingredients are now spread out on the rice paper as desired and then rolled up. It is a bit difficult at first. But practice makes perfect.
The fresh spring rolls are then dipped in a special sauce. This consists of fermented soybeans and deep-fried shallots. If you like it a little hotter, you can add a little chili.
If the sauce is hard to buy in your country, you can alternatively dip the summer rolls in fish sauce.
And now just eat !!! 🙂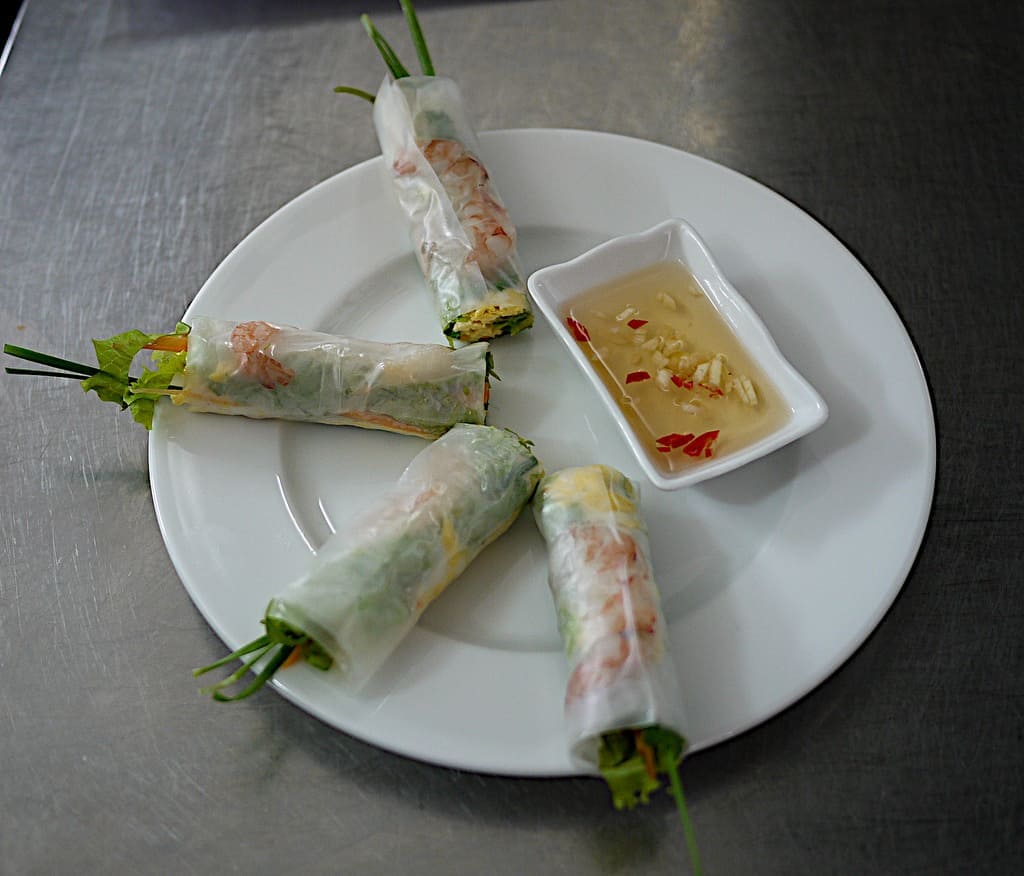 The fresh Vietnamese summer rolls are a specialty from the south of Vietnam. The preparation is also part of various cooking courses that we plan according to your wishes in your individual trip. Just contact the Vietnam specialists at Green Tiger Travel.
We would be happy to advise you personally: