Laos is a wonderful country that, despite the great influence of its neighbors and colonists, has been able to preserve its very individual traditions and customs to this day. Sitting in a Coffee-Shop in Luang Prabang, one almost feels that time stands still. Hustle and stress are unknown to the Laotians. Let yourself be infected by this almost spiritual tranquility in this strongly Buddhist country and get to know one of the most hospitable countries of Southeast Asia. We take you on our individual travel to Laos off the beaten tracks into the real Laos. Be inspired by our sample tours.
We would be happy to advise you personally: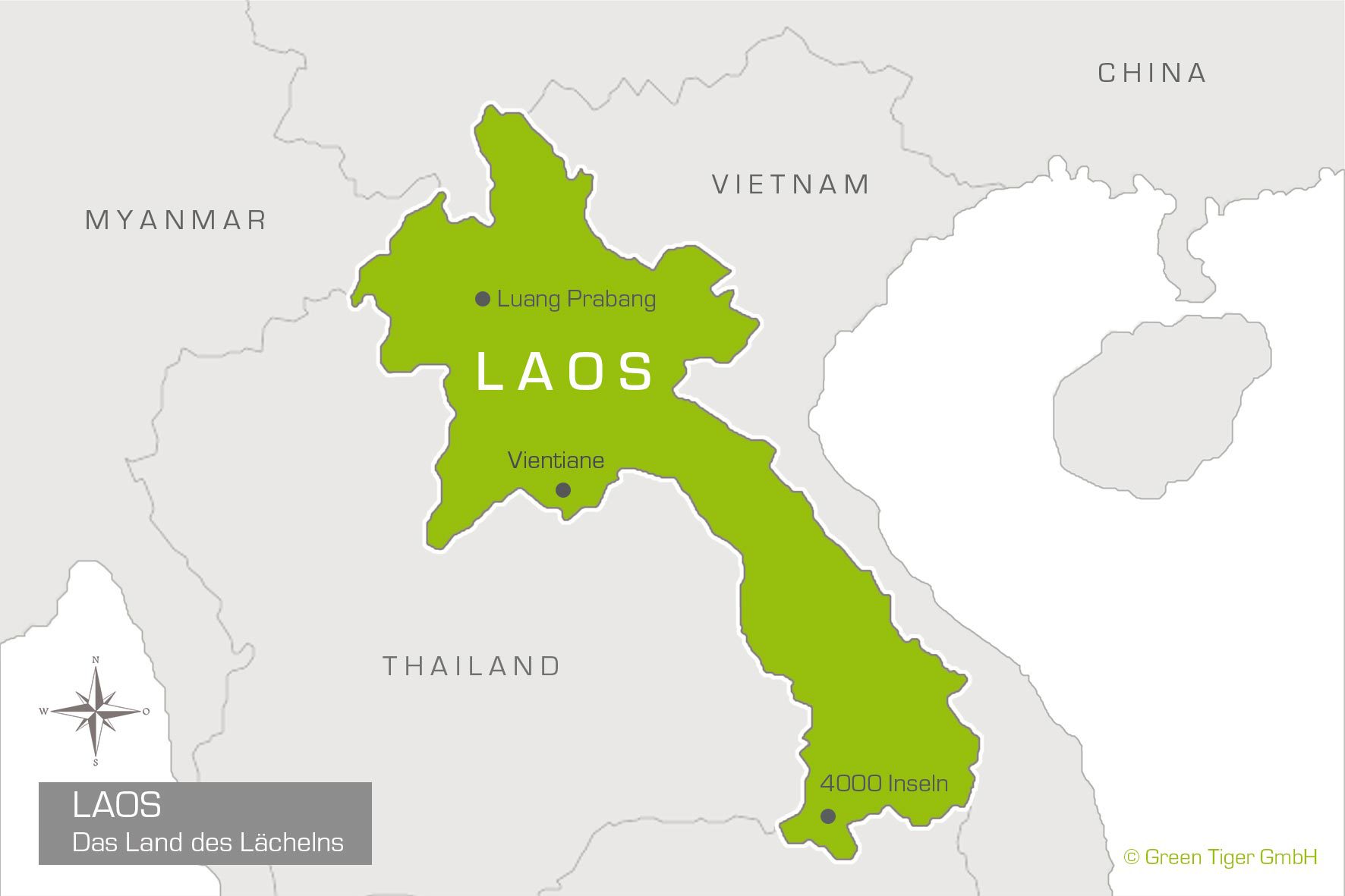 Vientiane – the cosy capital of Laos
Luang Prabang – UNESCO city of monestaries
Vang Vieng – enchanting carst landscapes
The 4.000 Islands – the original Mekong
Laos – the Land of Smiles
Laos consists of three quarters of jungle, mountains and rivers. A jewel of this karst rock formations is the largest river in Southeast Asia: the Mekong. He takes many visitors on a miraculous journey through the country.
The climate in Laos is tropical with warm temperatures. But temperatures vary greatly from region to region. So especially in the mountains it usually gets colder. Please contact our travel experts for more details.
Tour Combinations With Other Destinations
Travelling to Laos is great for a combination with Vietnam and Cambodia as well as for family holidays.
Green Tiger's Special Laos Tours
Places like Vang Vieng, formerly popular among backpackers, have now become oases of peace. Relax in a beautiful resort in Muang La on the Nam Ou River or join us for a visit of a sustainably managed elephant camp. Get to know the quiet and intelligent animals of the Laotians. Culturally, Laos has much to offer. Luang Prabang with its 1,000 temples or the level of clay jars bear witness to a rich and ancient history. Learn more about these enigmatic monoliths – did giants literally drink rice wine from them as legends say? We will advise you personally.
Help the Laotians to help themselves and visit MAC (Mines Action Group) with us. The Mines Action Group has set itself the task of eliminating the effects of the so-called "secret war".  America dropped millions of bombs from the unexplained Vietnam War in Laos – a work that would employ the Laotians unaided for more than a hundred years. Learn about this vital work and what you can do to make the lives of children and local farmers safer.