In the heart of South-East Asia lies the beautiful country of Cambodia. The most famous and truly impressive attraction is clearly Cambodia's landmark – the temples of Angkor. But Cambodia is so much more than just Angkor. Cambodia is mysterious, Cambodia impresses, and Cambodia has everything that makes a holiday in Asia attractive: pretty colonial towns like Phnom Penh or Kampot, delicious food, lonesome jungle trails, enchanted temple complexes, laid-back beaches and a private island in the Gulf of Thailand for luxury lovers.
Our many years of experience with Cambodia and our close cooperation with our colleagues on site will make your holiday an unforgettable experience before, during and after your trip. We are looking forward to advise you personally.
Personal advice for your individual Cambodia roundtrip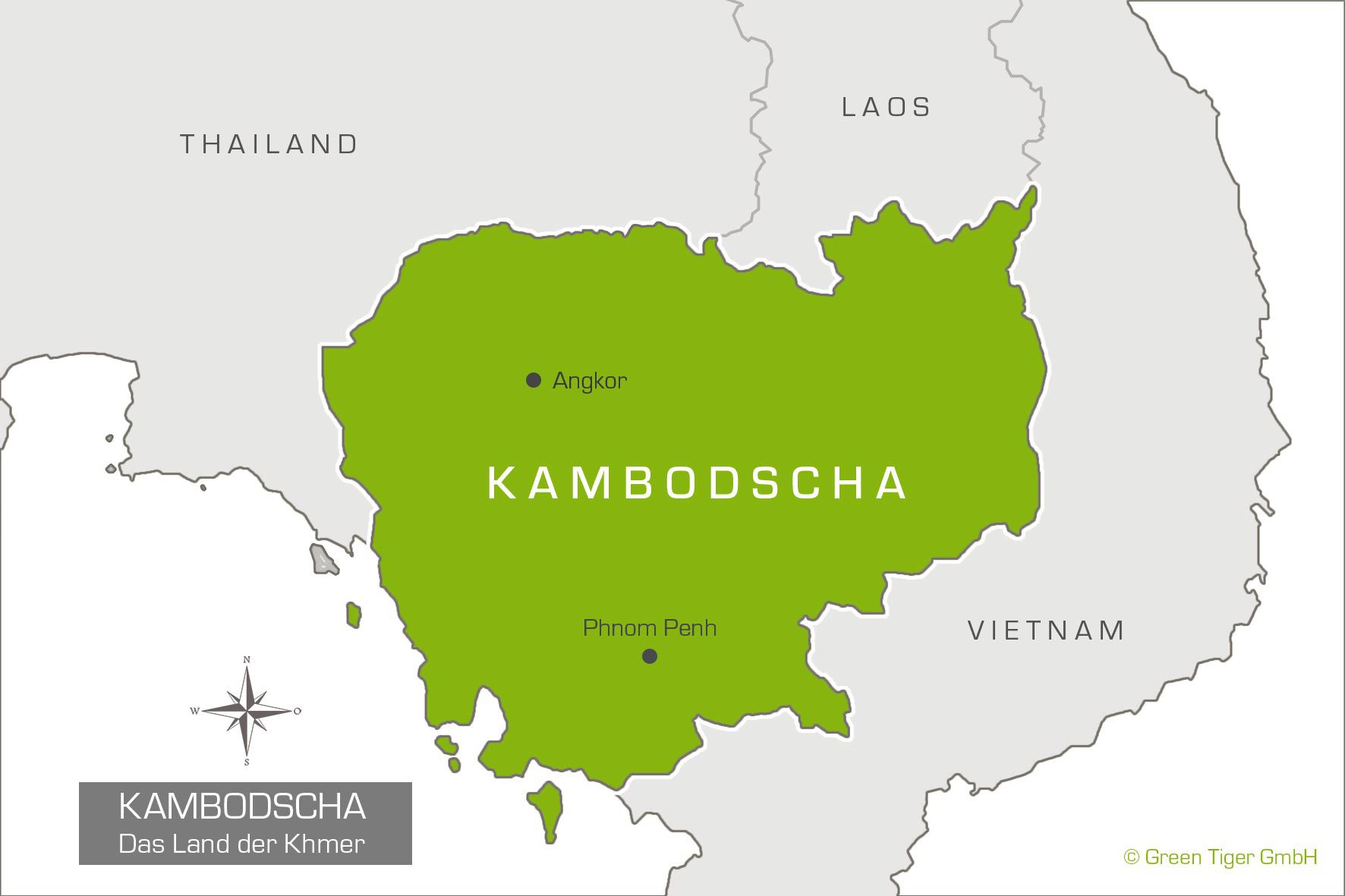 Angkor – UNESCO temple of the khmer
Phnom Penh – historical capital of Cambodia
Tonle Sap – floating villages
Kratie – unique natural adventures
Battambang – Cambodia's rice bowl
Mondulkiri – elefant protection projet in the jungle
Possible itinerary: Siam Reap (Angkor) – Phnom Penh – Kep – Kampot – Koh Rong
Main Sights of Cambodia ​
Cambodia is full of highlights; the country offers a wide range of places and attractions to visit. To give you a first insight, we present some of Cambodia`s highlights here. We would be happy to give you more information about Cambodia in a personal conversation.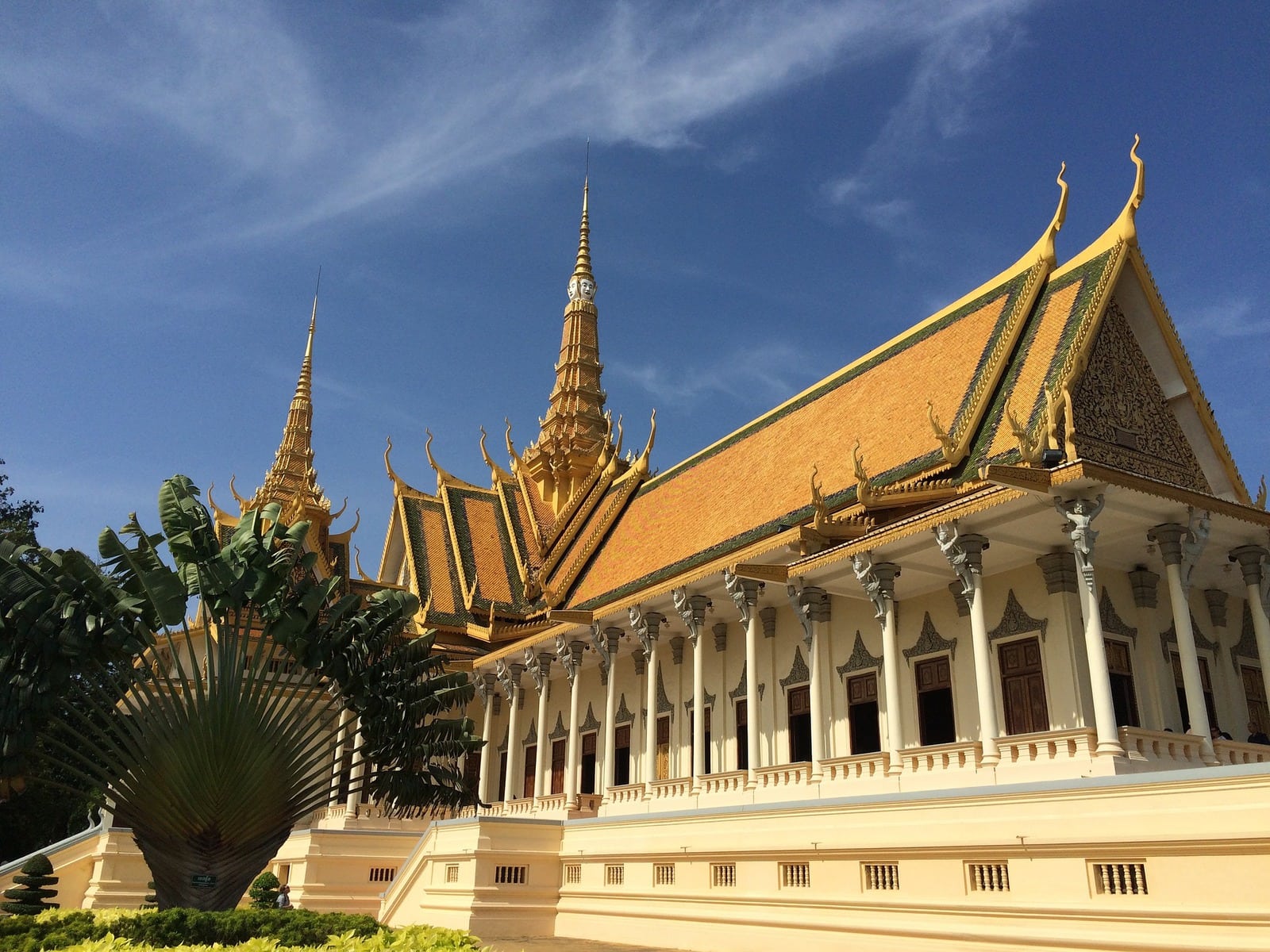 Phnom Penh
Phnom Penh is the graceful capital of Cambodia, once known as the pearl of Asia. The attractive promenade along the river is an inviting place for an afternoon stroll. Let the sounds of temple music, passing monks and flying street vendors take you back in time. You will feel this just as quickly as the modern changes- a city of diversity.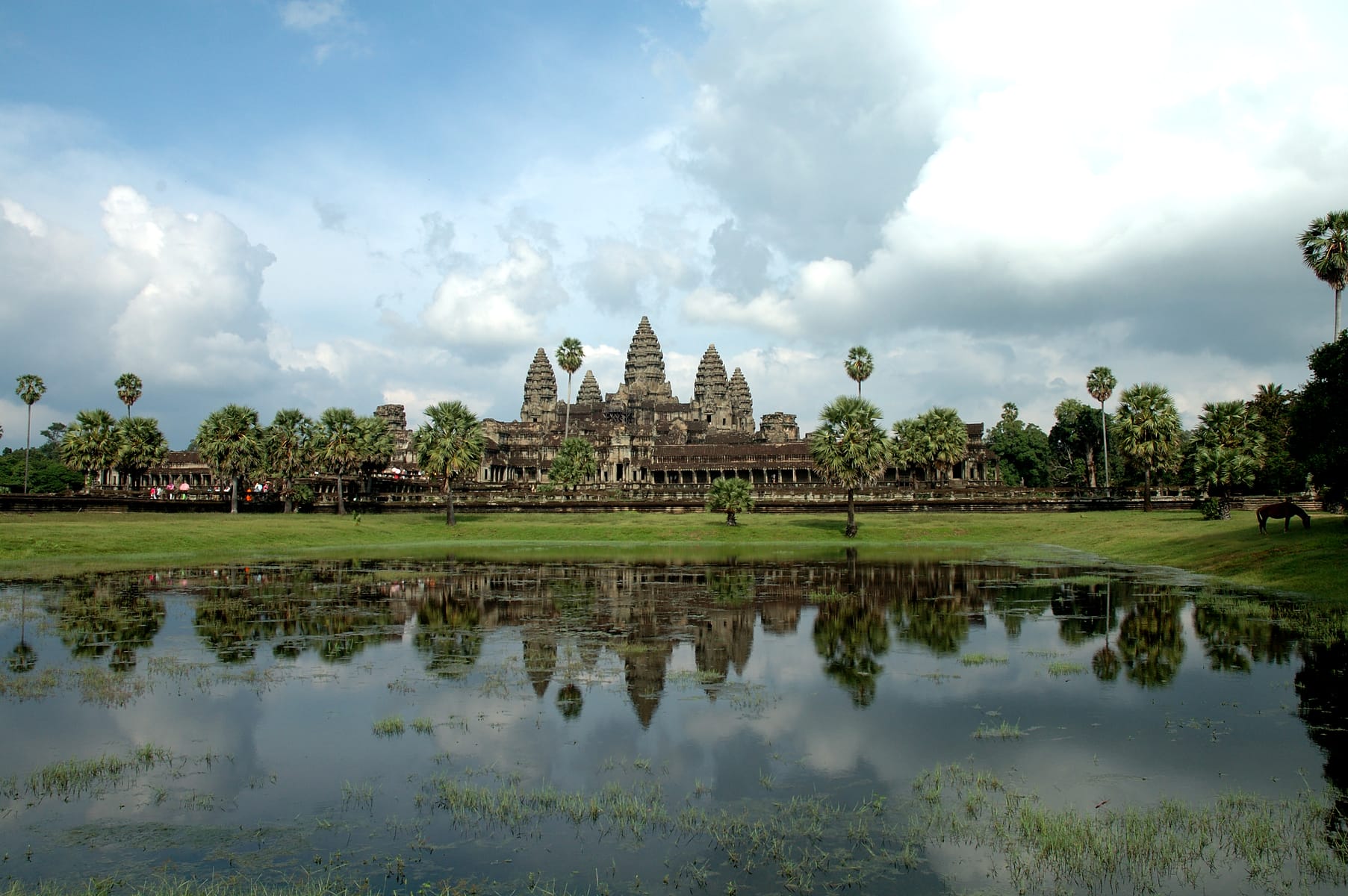 Angkor Wat
In 1860, the French discovered the remains of several temples and other stone buildings in the jungle near the city of Siam Reap. What they did not know at the time was that they had just discovered the ruins of what is believed to be the largest pre-industrial city in the world. The ruins of Angkor are the highlight for many tourists on their trip to Cambodia, and rightly so.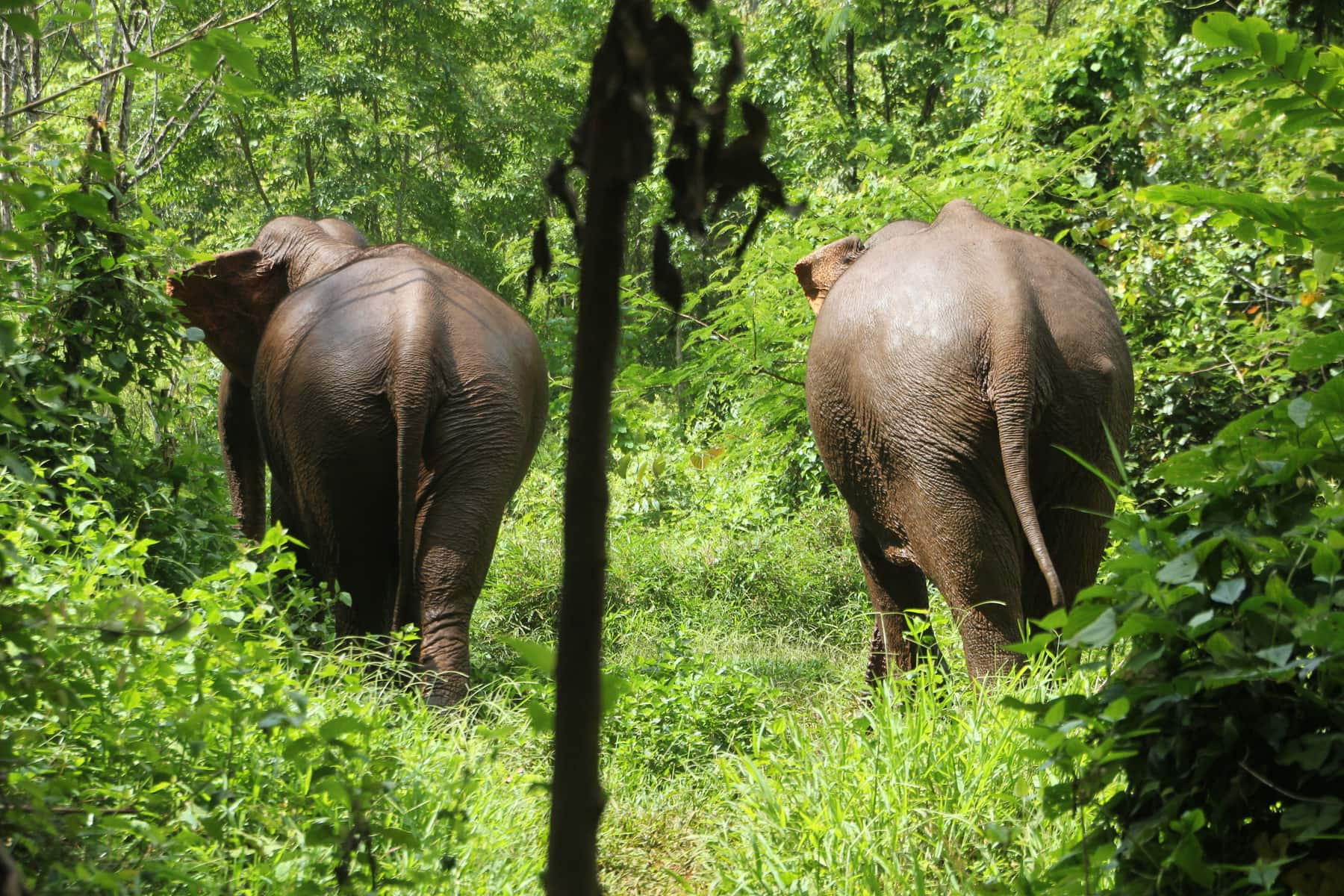 Battambang
Battambang is still one of those places that is a little off the beaten track and worth a visit during your trip to Cambodia. The region exudes a very pleasant and relaxed atmosphere, certainly also influenced by the small local artist scene in the city of Battambang. Pagodas, temples, and stupas are waiting to be discovered, caves, floating villages, and sacred mountains to be explored.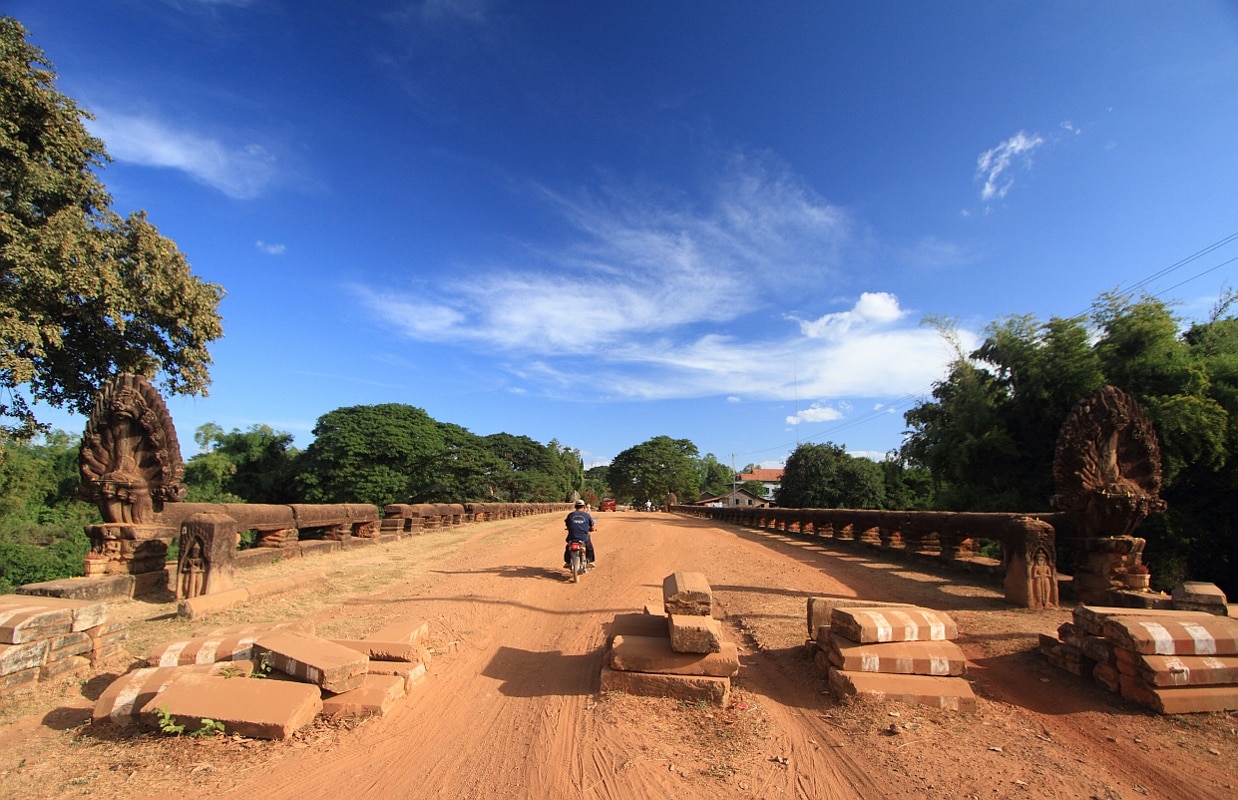 Phnom Kulen
The national park of the same name, founded in 1993, stretches around Mount Phnom Kulen. Within the park are various sights that make it a popular destination for tourists and locals. The historical sites and in the national park have been on the tentative list for UNESCO World Heritage in Cambodia since 1992.
Green Tiger's Special Cambodia Tours
The river Mekong with its numerous little branches and channels flows at a leisurely pace through the landscape. It holds quiet many surprises for the traveller.
Explore with us the idyllic island Koh Trong near Kratie. And if you are lucky you can spot some of the last river dolphins in the Mekong river.
Visit mountain tribes in the highlands of Cambodia. Here you will find different ethic minorities which are still unaffected by mass tourism. Red gravel roads, littele mountain villages, wild elefants, traditional pile dwellings and its hospitably people will become familiar to you during your Cambodia roundtrip.
In Angkor we have prepared many surprises for you. We do not just show you the highlights of the temple complex: we also take you to the places where other tourists are an exception! For example, discover Angkor by bike and visit forgotten jungle temples away from the usual routes. Just a few miles from Siem Reap, the floating villages and gardens are located on Tonle Sap Lake. Visit local fishing villages and learn more about the life of the local population. Support with us sustainable tourism projects like the Phare Circus and attend a performance in the evening.
We support you in planning and organizing your Cambodia holiday. Feel free to contact us by phone or Email – or browse our other Green Tiger destinations.
FAQ About Cambodia Roundtrips