Our individual trips Myanmar are unique experiences. Although you may have known other countries in Southeast Asia, Myanmar is different!
This very Buddhist country was opened in 2011 for individual tourism. As authentic as life is the smile and partly the astonishment of the people in the encounters with us foreign visitors. Now there are opportunities for positive change: the exchange of different cultures or the economic upswing of the country through tourism are just two aspects. We take you on our individual private trips away from the usual tourism on far-off routes in the real Myanmar. Let yourself be inspired by our sample tours Myanmar.
We would be happy to advise you personally: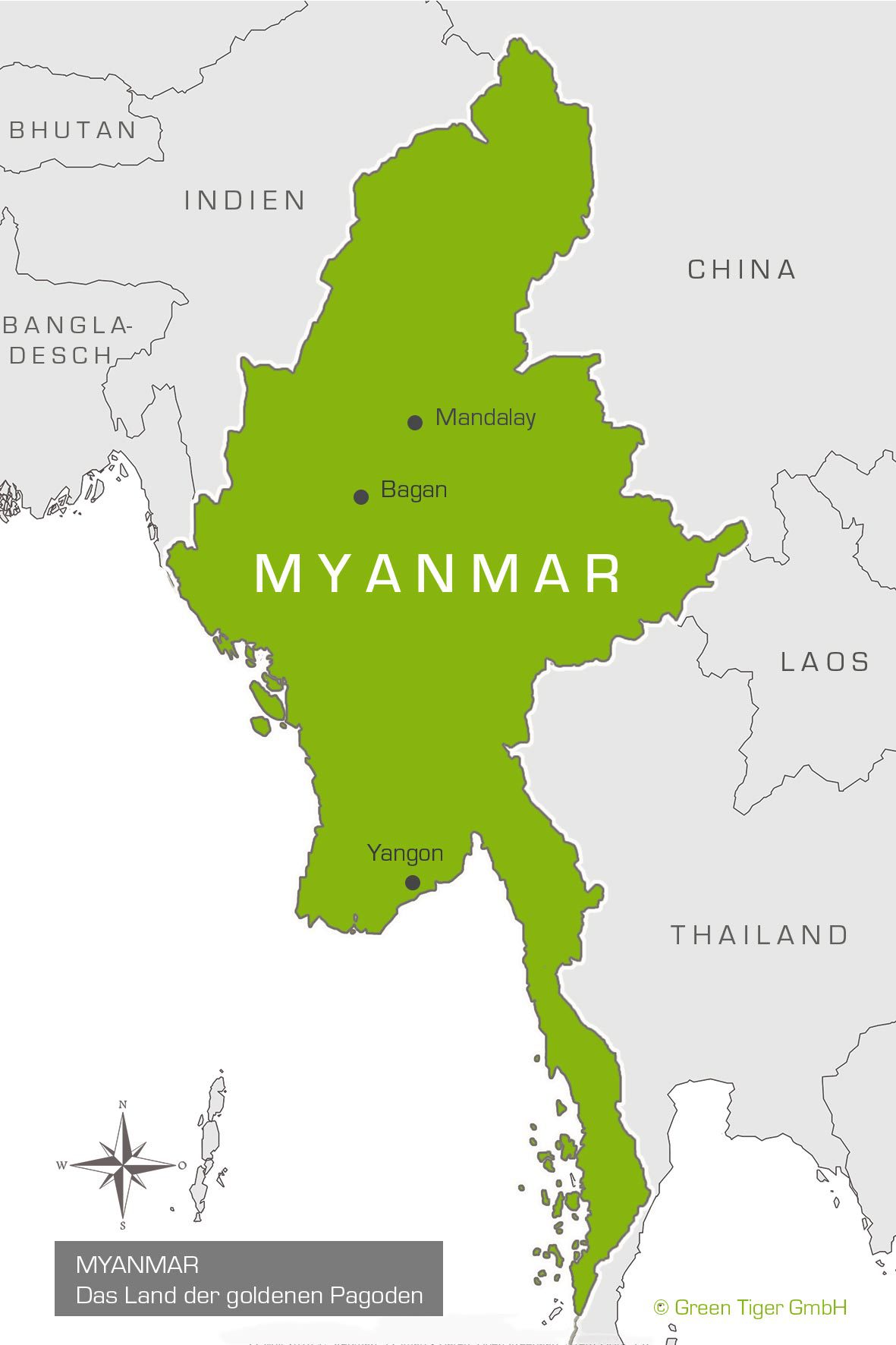 Mandalay – die city of kings at the Irrawaddy river
Bagan – fields of pagodas at sunset
Ngapali Beach – unforgettable beaches at the Gulf of Bengal
Inle Lake – one-leg rowers and floating villages
Yangon – Shwedagon-Pagoda – the religious centre
Myanmar – the Land of the Golden Pagodas
When you are out and about the city, it quickly becomes clear that ox or horse carts are not primarily touristy ornaments. Instead they are part of everyday life and work. A traveler in Myanmar will not miss out on activities and amazing cultural highlights.
Join us on an extraordinary sailing trip through the Mergui Archipelago or visit the world's most valuable pagoda: the Shwedagon Pagoda in Yangon. We are happy to help.
Tour Combinations With Other Destinations
Myanmar is great destination for a combination with Thailand as well as for family holidays. We are happy to help.
Green Tiger's Special Myanmar Tours
As diverse as Myanmar are our individual journeys. Our travel examples are only guideposts and suggestions for you. They show you ways to travel this country individually and privately. But we are happy to adapt your trip completely to your wishes and create an all-inclusive package for your dream holiday.
Do you like trekking? We offer you an extraordinary trekking tour through the Chin-state. The region was just opened for tourism in 2014 and is known for its breathtaking mountain views and its remarkable habitants. You meet the locals on your homestay and can visit the legendary temple city of Mrauk U.
The dream beaches on the west coast of Myanmar offer you a perfect finish of your holiday. Many people say that Ngapali Beach reminds them of Thailand 20 year ago: only few tourists, long golden beaches and crystal clear water.
On a day trip to St. Andrews Bay, you do not only have the opportunity to enjoy the great sandy beaches in St. Andrews Bay, but also to get close to the locals. The St. Andrews Bay is far away from the usual tourist routes and is therefore rarely visited by travelers. Enjoy the peace and seclusion of Myanmar and immerse yourself in Burmese history and the lives of local people. The sustainable tourism project we support there has been created by a family from the fishing village. They show tourists their land and their lives and thus create a source of income for the local population.
Explore the authentic life in a typical fishing village. The tour is being organized by a small local NGO that contributes to generating sustainable income for the local community of Maung Shwe Lay through international guests. Your guide will lead you through the village and tell you a lot about local life. Then you drive with an oxcart to explore the area. At lunchtime a homemade lunch will be served.