The cuisine in Southeast Asia is incredibly varied and an integral part of the travel experience there. Sri Lankan cuisine in particular impresses with its many variations of curry with many fresh ingredients and a wide variety of flavors.

We asked our guides about their favorite food and asked them to show us how to prepare it. Our guide Prasad from Bandaragama presents the preparation of his favorite food – Sri Lanka Kos Mallum. Enjoy cooking and enjoy your meal!
It is currently a difficult time for our partners in Southeast Asia because the international travel restrictions have broken down all income from the travel industry.
Our guides have sent us some videos that we will gradually publish on this travel blog. You are also welcome to support our guides with a donation. Every amount is passed on by us 100%. Just contact us!
Ingredients for Kos Mallum
Jackfruit
Onions
Garlic
Green Chili
Curry Leaves
Cinnamon Stick
Turmeric Powder
Pepper Whole
Curry Powder
Mustard Seeds
Pandan Leaves
Coconut
Preparation of the Sri Lanka Kos Mallum
Here are the most important steps from Prasad's video.
First we cut the jackfruit into pieces and boil them up.
Meanwhile, we start chopping onions, garlic, green chilli and the curry leaves. Together with the remaining ingredients (cinnamon, turmeric, peppercorns, curry powder, mustard seeds and pandan leaves), we put everything in a blender. The experiment-minded among us build a traditional "mixer" like Prasad in the video 🙂 After everything has been mixed well, we add the grated coconut and mix everything again for a short time.
Mix the finished mass under the boiled jackfruit, serve the delicious Sri Lanka Kos Mallum and we can enjoy the food!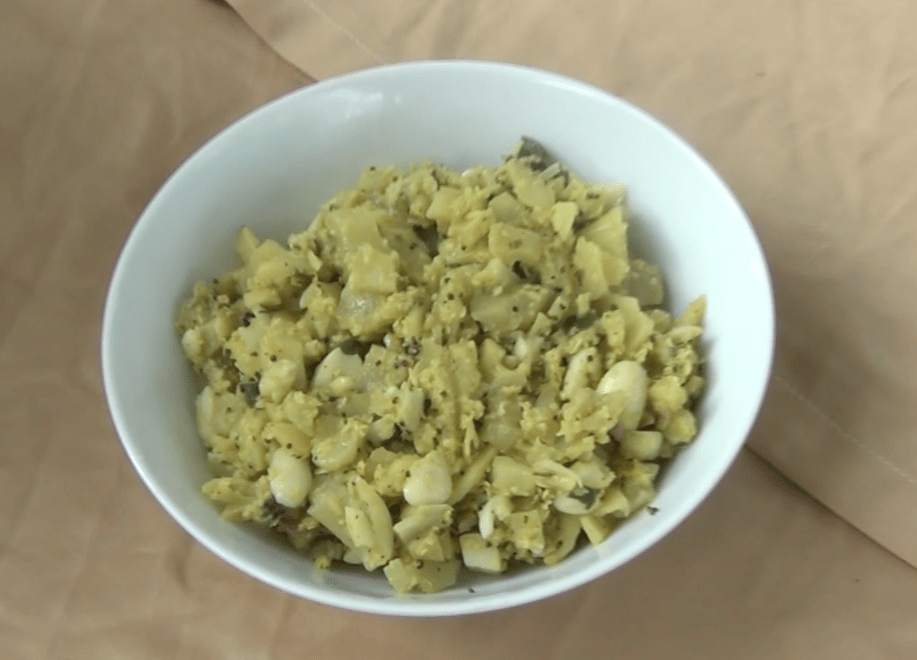 The fresh Kos Mallum is a specialty from Sri Lanka. The preparation is also part of various cooking courses that we plan according to your wishes in your individual trip. Just contact the Sri Lanka specialists at Green Tiger Travel.
We would be happy to advise you personally: