Your Specialist for Individual Tours to Southeast Asia
Since more than 10 years Green Tiger Travel organizes customized individual tours to Southeast Asia.
Our travel destinations include Vietnam, Cambodia, Laos, Myanmar, Indonesia, Thailand and Malaysia.
Beyond Southeast Asia we are travel experts for tours to the Kingdom of Bhutan in the Himalayas and for Sri Lanka, the pearl of the Indian Ocean.
Like a manufactory, every trip with Green Tiger Travel is individual and tailor-made, so to speak "hand-crafted". Our experienced team of travel specialists plans and organizes your very personal dream trip with passion and attention to detail – because traveling is our passion.
Let your travel dreams come true. We would be happy to advise you and look forward to hearing from you!
Green Tiger Travel Destinations
What is Your Personal Travel Style?
We would be happy to advise you personally:
To offer our customers an excellent service and to organize unforgettable trips is our high standard. A very good price-performance ratio is our goal. Our customer payments are secured completely in accordance with the German law by the insurence group  "R+V Versicherung".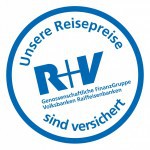 Our insurance partner "HanseMerkur" offers various travel insurance policies so that you can enjoy the most beautiful time of the year without any worries. Please contact our experts for further details.



Travelling is fun. Travel educates. Travel is more than just holiday.
Tourism growth is impressive in many countries and offers many opportunities for both locals and visitors. Unfortunately, this sometimes leads to unintentional damage to the ecology and the cultures we want to get to know and preserve. Tourism can be a double-edged sword. That's why it is important to us to make your journeys responsible and to minimize negative impacts.
For example, Green Tiger Travel and its local partners are working on a variety of local projects to create a broad-based economic benefit on a socially and environmentally sustainable basis. These can be supported and partly be visited on our tours.
Green Tiger Video "Best-of-Southeast-Asia"
"The trip you put together for us was absolutely wonderful. It was like being teleported to a different world, full of exquisite experiences, each special in their own right, but when put together, forming a vibrant, shining treasure which still glows inside. The hotels were sensitively chosen, offering comfort and luxury while at the same time trying to respect an awareness for the environment and the local communities. Everything was well organised and I felt well taken care off (even the meat free diet wasn't a problem), without being frog marched or going under in the crowd and we really did appreciate the level of individual service which we enjoyed. I had never been on an organised trip before, so it's a bit vague to say that you more than exceeded my expectations. I would never have managed to put such a trip together on my own and am extremely grateful that we were able to profit from your experience in this part of the world. It was reassuring to feel your commitment to supporting the indigenous people and their environment and I am grateful to you for enabling us to share their special magic. I would whole heartedly recommend you and your company and wish you all the very best for the future"